Compared to the neighboring provinces of Ho Chi Minh City such as Binh Duong and Dong Nai, the real estate market in Long An is quite long behind. But now, this place is becoming the focus and getting special attention of the "big investors" in the real estate sector because the price is still low.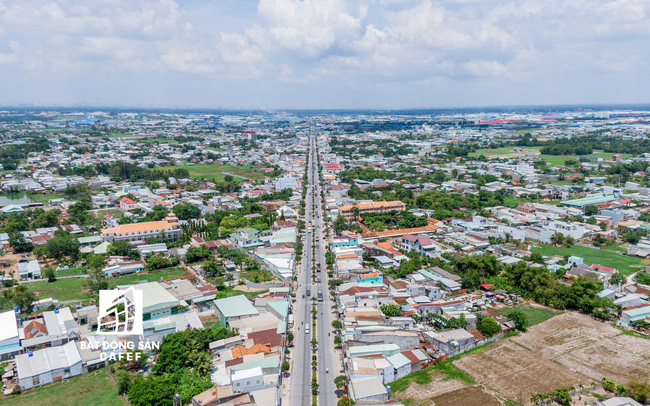 According to the plan to 2030, with a vision to 2050, the Ho Chi Minh City area consists of 8 provinces and cities including Ho Chi Minh City, Dong Nai, Binh Duong, Long An, Ba Ria - Vung Tau, Binh Phuoc, Tien Giang and Tay Ninh. This will be a modern urban area, a major economic center of the country and Southeast Asia, a center of commerce, finance, a center for scientific and service research, a high-tech industrial center and intensive industry ...
Ho Chi Minh City will develop the space in the direction of balance, sustainability and adaptation to climate change, with a technical infrastructure framework synchronized with Ho Chi Minh City as the central. Ho Chi Minh City has also made critical investment decisions for the connected transportation network in accordance with the regional expansion plan to the south.
Mr. Le Hoang Chau, Chairman of Ho Chi Minh City Real Estate Association (HoREA), said that according to the Ho Chi Minh City Regional Planning project, the three districts of Ben Luc, Can Giuoc and Duc Hoa of Long An will be the satellite cities of Ho Chi Minh City.
According to Prof. Tran Ngoc Chinh, Chairman of Vietnam Urban Development Planning Association, through the study, if the urban area of Ho Chi Minh City is expanded, Ho Chi Minh City will have an additional area of about 48,000 - 50,000 ha, a population of about 37,000 - 42,000 people. Thus, the area of Ho Chi Minh City will increase to about 50km2. Some localities such as Binh Duong, Dong Nai, Ba Ria - Vung Tau and Long An are also planning to implement large investment strategies to catch this opportunity.
Typically, Long An has completed many important plans for the period up to 2020, with a vision to 2030 and is also ready for the spread of investment from Ho Chi Minh City. In particular, Long An and Ho Chi Minh City have been working together for many years to call for investment, upgrade and expand the connecting roads to the south of Ho Chi Minh City to Long An.
In the future, Long An will have National Road 1A, Ring Road 3, Ring Raod 4, as well as the HCMC - Trung Luong railway connected. As for waterway transportation, Vam Co Dong and Vam Co Tay river systems associated with Long An International Port on the Soai Rap river gate have come into operation.
Currently, Long An also continues to accelerate investment in completing the driving forces of infrastructure, especially transport infrastructure in key economic regions of the province serving industrial development such as routes of intra-provincial, inter-provincial and inter-regional, especially the transport routes connecting with HCMC.
In particular, in order to reduce the load on NH1 to the East, the Ministry of Transport is building a plan to invest in a road parallel to NH50. It can be said that this route is considered a driving force, when completed, it will arouse the potential of Long An's lower section area (including the districts of Can Giuoc, Can Duoc, Tan Tru and Chau Thanh), and it also is a "gateway" connecting with Ho Chi Minh City for coastal districts of Tien Giang via My Loi bridge such as Go Cong Dong, Go Cong Tay and Go Cong towns.
In addition, many key roads have been upgraded and expanded such as 835B, 826C, 830 ... to help facilitate trade links to the district administrative center and surrounding areas. A number of key projects such as Tan Tap - Long Hau, Ben Luc-Long Thanh highway, Duc Hoa - Tan Tap roads are implemented, connecting industrial parks and clusters in the district with Ho Chi Minh City, Dong Nai, Binh Duong and Tien Giang.
Recently, the People's Committees of Long An and Ho Chi Minh City have proposed to the Prime Minister to allow the construction of a new road in parallel with the National Road 50 in addition to the transport planning of Ho Chi Minh City until 2020 and vision after 2030 and according to the plan, The starting point of the new route will connect with the existing project of linking Pham Hung road with Kenh Cay Kho bridge in Phuoc Loc commune, Nha Be district (Ho Chi Minh City, about 800m long), the end point will connect with National Road 50 at Km12+600 (Tan Kim intersection, Tan Kim commune, Can Giuoc district, Long An province).
Recently, the Department of Transport of Ho Chi Minh City has just signed a document to report to the People's Committee of Ho Chi Minh City about increasing infrastructure investment for the Southern area connecting with provinces in the Mekong Delta region, under the direction of the Chairman of Ho Chi Minh City People's Committee.
According to the Department of Transport, currently, the main transport infrastructure of the South is basically the roads that have been invested for a long time ago, such as Nguyen Van Linh street (its function is a ring road and urban roads), Nguyen Van Cu Street, National Road 50, Pham Hung, Nguyen Huu Tho, North - South Road, extended Nguyen Tri Phuong Street, Tan Thuan 2 Bridge, Huynh Tan Phat Street.....
Along with the investment and replacement of weak bridges on Le Van Luong route, the main roads connecting the South area with the existing urban areas in the inner city have been formed, contributing to the development of satellite urban areas of the city, ensuring proper implementation of urban planning to the south in the future.
In terms of roads, for projects that already have investment policies, have investment plans or are implementing investments, they will accelerate the implementation progress. Specifically: Project on upgrading Huynh Tan Phat road surface (from Tran Xuan Soan road to Binh Khanh ferry); To build 3 new bridges (replacing weak bridges of Rach De, Long Kieng and Rach Tom) on Le Van Luong street; Constructing intersection Nguyen Van Linh - Nguyen Huu Tho; Constructing, renovating and expanding intersections Huynh Tan Phat - Luu Trong Lu; Upgrading Nguyen Huu Tho street (from Kenh Te bridge to Nguyen Van Linh street).
Also according to the Department of Transport, in the upcoming time, Ho Chi Minh City will continue to accelerate the procedures for proposing investment guidelines for projects: Construction of Nguyen Khoai road and bridge (crossing Kenh Te and Ben Nghe canals) connecting districts 1 and 4. , 7; Upgrading national highway 50 (the section from Nguyen Van Linh to the border of Long An province); To build new Rach Doi bridge on Le Van Luong; Upgrading Pham Huu Lau street (the section from Huynh Tan Phat street to Phuoc Long bridge); To build the extended Nhon Duc - Phuoc Loc road (the section from Kenh Cay Kho bridge to national highway 50); Building overpasses at the crossroad of Nguyen Van Linh - Pham Hung; Construction of the overpass on Nguyen Van Linh intersection - national highway 50.
At the same time, the Department of Transport will preside over and coordinate with many related units to enhance investment calling, accelerate investment procedures for investment projects in the form of public-private partnership (PPP). They are: Building Binh Tien Bridge and Road; Building North - South trunk road (from Hoang Dieu street to Ba Chiem bridge) phase 3;
Building Le Van Luong route; Building Ring Road 2, Section 4 (from Highway 1 to Nguyen Van Linh); Expanding Nguyen Van Linh street (from Nguyen Thi Thap to Huynh Tan Phat); To build Phu Xuan 2B bridge and 15B road (on extended Nguyen Luong Bang road); Invest in building large bridges such as Can Gio Bridge instead of Binh Khanh ferry, Thu Thiem 4 bridge (connecting District 2 with District 7).
For railways, the Department of Transport will coordinate with the Urban Railway Management Board to call for investment in the construction of the No. 2 ground tram route (Highway 50 - Nguyen Van Linh - Tran Nao - Xuan Thuy - Binh Urban Area). Quoi); Urban railway No. 4a (Thanh Xuan - Hiep Phuoc urban area); Urban railway No. 5 phase 2 (New Can Giuoc Bus Station - Bay Hien crossroads).
According to the People's Committee of Ho Chi Minh City, the locality is currently investing and calling for investment in arterial roads connecting industrial zones and clusters, connecting to the urban area of ​​Hiep Phuoc port and Long An International Seaport, creating conditions to promote investment attraction and industrial development in the southern key economic region, especially in connection with adjacent districts: Can Duoc, Can Giuoc, Ben Luc, Duc Hoa and Tan An City.
This shows that Ho Chi Minh City is mobilizing and effectively utilizing resources from various economic sectors along with the state budget to invest in the construction of transport infrastructure, contributing to the rapid implementation of the goal of expanding population, develop satellite urban areas in the expanded urban area of Ho Chi Minh City towards Long An.
From these strong investment decisions, the real estate development picture of Ho Chi Minh City to the South has developed quite quickly and methodically. Since then, the Long An real estate market has continuously increased prices, creating "fevers", especially in areas adjacent to Ho Chi Minh City such as Ben Luc, Can Duoc, Can Giuoc.....
According to a number of recent real estate market research companies, the market of townhouses and ready-built villas in Ho Chi Minh City is expected to receive large supply from well-known domestic and foreign investors. By the end of the third quarter of 2019, however, due to many reasons, the projects have delayed the offering until the end of 2019. This continues to make the HCMC market become less attractive when the new supply " "dripping" and selling prices were pushed up due to real estate ownership being transferred many times.
On the contrary, in the market of provinces nearby Ho Chi Minh City such as Long An or Dong Nai, the last quarter showed more excitement with the introduced large urban projects. For example, in the area market adjacent to Ho Chi Minh City of Long An province, the new supply offered in the first 9 months has increased nearly 30% compared to the whole Ho Chi Minh City. Pre-built townhouse projects in this province focus on clean living environment and lush landscaping along with attractive prices and payment policies, and urban area projects are introduced in connection. Closely associated with HCMC in terms of infrastructure is attracting a lot of attention from buyers.
Accordingly, in addition to the local businesses such as Tran Anh Long An, Cat Tuong Duc Hoa, Dong Tam Long An ..., Long An has witnessed a landing of big real estate giants such as Thaco, Vingroup, Van Thinh Phat, T&T Group, Danh Khoi, Him Lam, Sea Holdings ... In particular, Van Thinh Phat Group was approved by Long An Provincial People's Committee to invest 36 projects with an area of ​​2,086 ha in Ben Luc district.
These markets also include companies such as Vingroup, which is investing in Vincom Shophouse Tan An Project; Danh Khoi Real Estate Company (DKR) has announced the Long Hau Riverside Project, with an area of ​​more than 20 hectares; Sea Holdings is also developing a project on an area of ​​3 hectares; Becamex Group is promoting the establishment of an urban - industrial - service complex with a scale of about 3,045 hectares located in Ben Luc district ...
Experts said that in the coming time, with the trend of clearing the South Saigon area, breaking the isolated position of Nha Be, real estate in some areas adjacent to Ho Chi Minh City such as Can Giuoc and Duc Hoa will keep a growth pace. High, is a key area leading Long An market.
For example, Can Giuoc, thanks to strong investment in infrastructure development, is increasingly attracting domestic and international investment. Currently, Can Giuoc owns many large-scale industrial zones such as: Southeast Asia Long An Industrial Park, Tan Kim Industrial Park, Long Hau Industrial Park ... conveniently connecting to create a development axis with Hiep Phuoc port urban area which is oriented to become a special one. economic zone about seaport of Ho Chi Minh City. This shows that in the future this place will become one of the bustling urban areas in the south of Saigon.
(Source from http://cafef.vn/bat-dong-san-long-an-tiep-tuc-huong-loi-lon-tu-cu-huych-ha-tang-khu-nam-tphcm-20191016175333108.chn)